Importance of Retail Location for your Business: All You Need to Know to Find the Perfect Retail Space
The location of a business can spell success or demise. Some people have perceived the brick and mortar retail market share as in decline, but the retail sector remains persistently competitive and resilient. One of the most important decisions retailers can make is location.
The Retail Industry: Challenges and Opportunities
In 2023, in-store or brick-and-mortar retail sales in the U.S. are projected to increase by 2.9% above the $7.139 trillion mark reached in 2022. As retailers continuously face fluctuating markets and elements outside their control, strategic decisions must be made to protect margins and ensure growth. One of the earliest and most strategic decisions any retail business makes is location.
Read on to learn the importance of location in real estate, what factors to consider when looking for a retail space, types of retail spaces, and a retail site selection checklist.
The commercial real estate experts at Hartman REIT lead the Texas retail space market, providing ideal retail locations in highly trafficked metropolitan and suburban areas. Visit our site to easily browse retail space for lease  available in Houston, Dallas, and San Antonio.
Covered in this article:
What is the Meaning of Location in Real Estate?
Location, location, location: the three topmost priorities of any real estate decision. Location in real estate impacts property values, and real estate markets and submarkets offer different features.
When choosing a retail space or an office space, location is key. Nearby property values, position along major highways or thoroughfares, desirable addresses, and amenities are all part of calculating the value of a commercial property.
The importance of retail location cannot be overstated. The identifiable metrics for predictable sales include location-based analyses like foot traffic, proximity to similar businesses, parking ratios, local population demographics, and ease of access. All of these are related to where a retailer chooses to lease a building.
4 Important Factors When Looking for Retail Location
When it comes to choosing a retail space, the decision is more nuanced than leasing an office space, or choosing a residential neighborhood. Retailers should prioritize location, here are the four factors that matter most:
1. Local Market: Present and Future
A first point of consideration is the real estate market or submarket in which a retail store is located. There are ample opportunities to assess a location's current state, which of course should be done, but retailers shouldn't stop there. In fact, what the broader real estate market or submarket is projected to do is especially important.
City records and publicly disclosed documents can provide insight into how similar businesses perform in a given area. Analysts, either CRE professionals or location data specialists, can offer forecasting. After all, settling into a retail location is a big undertaking. Ideally, the area you choose should have some staying power, and be a profitable decision for more than just a couple of years.
2. The Business Environment
This was alluded to in the "present and future" point, but a full scale analysis of both the macro environment and micro environment should be conducted before settling on a retail location. The exercise extends beyond real estate markets, and looks at the broader business climate of a given area. Texas's business-friendly culture is part of the reason so many businesses are moving to Texas.
Is an intended location business-friendly?
What is the broader business climate: are businesses moving in or leaving?
What is the general economic climate?
Is the tax structure good for businesses?
What is the residential real estate market doing in the area: growing or shrinking?
All of these factors will impact your retail business's ability to thrive in a given area, and should be counted in as you decide where to land.
3. Population Demographics
In a brick-and-mortar retail environment, local population and demographics are vital statistics. Foot traffic may well be the lifeblood of your daily business. This decision is intimately related to the type of retail business and type of retail location you will have, which will be covered in a moment.
Demographic research should include analysis of the following points:
Age/generation and concentration of each type
Race or ethnicity
Income (median household income)
Employment
Political affiliation
Education
Marital status
Parental status
Home ownership rates
Retail habits and discretionary versus non-discretionary spending
It is important to know that retail consumer behavior regularly changes, impacted by economic and marketplace dynamics. Demographic research may be something that merits ongoing surveys, but it is especially important early in your retail site selection process.
4. Visibility and Accessibility
Last but not least: the features of the building location and the building itself. This is of equal importance to the first three considerations. Retail site selection being all about location, the location itself must be visible and accessible.
Visibility relates to things like how the building is positioned to be seen from the street and what kind of signage is available.
For example, when we have space for lease in Hartman retail buildings, we clearly communicate to prospective tenants the following visibility features:
Positioning on or off major streets or through streets
Position on corners or main roads
Pylon signage availability
Other signage availability
Similarly, it is important to understand how accessible a building will be. While accessibility for disabled persons is a point of legal compliance, this treatment of accessibility is more about traffic. Foot traffic is one of the most important key performance indicators (KPIs) or metrics for performance that predict profitability for a retail location.
The way we describe accessibility for Hartman retail properties includes the following:
Location along highways or major streets
Average vehicle traffic along a given street (cars per day)
Signalized intersections
Parking ratios
Other nearby hospitality, retail, or businesses
Accessibility can be by foot or by vehicle, and some of these descriptors — and how valuable they are — will vary depending on whether a site is metropolitan, urban, suburban, or rural.
5 Types of Retail Locations With Examples of Retail Spaces for Lease
There are numerous types of retail stores. The most common are:
1. Chain store — This retail store type was popularized in the 1920s and offers a high volume of merchandise, which is typically discounted below single unit retailers. Occupying an increased market share, these are often typified by big box brands.
Example Location: Northeast Square Shopping Center in Houston, TX, is a great spot for a fast food company or retailer; multiple spacious units are available and the property gets high traffic counts from multiple roads and has a strong daytime and nighttime tenant mix.

2. Department store, mall, or shopping center — These are grouped because they are often located either in close proximity or in the same building. They may be outdoor/open-air or completely enclosed in a large shopping center. Retail locations like this benefit from the grouping, drawing shoppers in for a mix of moderately and high-priced or luxury goods, and often securing a lengthy shopping session from the average visitor.
Example Location: Village Pointe Shopping Center is located in the North Central San Antonio submarket. In addition to this ideal retail location, it has 54,246 square feet of space, is near the San Antonio International Airport, has superior highway visibility, ample parking, and is located in an area with residents making above-average income.

3. Supermarkets — Self-service, customer checkout, high-volume, and large: supermarkets carry both food and nonfood products. They offer a large assortment of goods at low prices.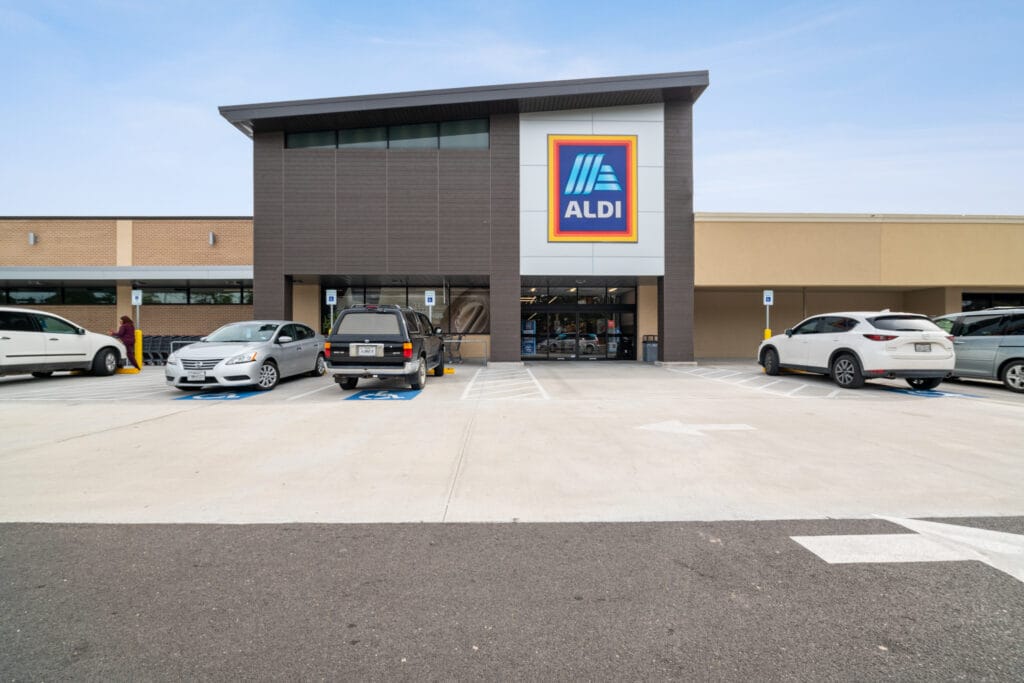 Example Location: Garden Oaks Shopping Center, Texas is a two-story neighborhood center in the heart of a thriving community. The location has strong daytime employment population and averages 45,684 cars per day on its cross roads, N Shepherd Rd and Garden Oaks Blvd.

4. Warehouse retailers — Costco may be the best-known warehouse retailer, followed by Sam's Club or even Aldi's. These are housed in large facilities with bare-bones amenities or customer service options, often providing food or non-food goods in wholesale quantities.
Example Location: Walzem Plaza Shopping Center is a retail location San Antonio with anchor tenants and continuous traffic. It's located at a signalized intersection and has pylon signage available. More than 20,000 vehicles travel Ray Bon Dr. and Midcrown Dr. per day, and it's situated in a middle-class community.

5. Discount retailers — Some of the most successful retailers of the last decade have been discount retailers like Marshalls, Grocery Outlet, Ross Dress for Less, and T.J. Maxx. These are traditional retail stores that usually offer extended hours, simple fixtures, and limited selection at steep discounts.
Example Location: Prestonwood Park Shopping Center, a neighborhood retail location located in Plano, TX which gets high traffic on West Park Boulevard, has national co-tenants, a strong daytime employment population, pylon signage available, and is at a signalized intersection.
Note, the example retail locations in Dallas, Houston, San Antonio, and Richardson are good candidates for numerous retail types, not just the retail types they illustrate here. Many retail locations are adaptable for various use cases, and it is wise to work with a professional broker or leasing agent to find the perfect retail location for your business.
The State of Retail in Houston, Texas
According to CBRE's 2022 Q4 Retail Houston Report, Houston recorded 236,000 square feet of net absorption. In Q4, retail supply was boosed by 854,531 square feet with 30% of the new product located in the far Northwest submarket. Overall, the occupancy rate increased 200 basis points year-over-year.
"Despite combatting mandates, labor shortages and now rising food costs, national restaurant concepts are still pushing to expand their presence in Texas."
Wade H Greene IV, CCIM, Principal, Director of Retail Services, Houston
Retail Site Selection Checklist
Knowing how to analyze a retail site is the right preliminary step. Once you begin to tour retail spaces, it is important that you have a set of criteria to bring to that process. Here are some of the key points that we recommend adding to your retail site selection checklist:
Area

Customer base matches ideal customer profile
Easy access to major roads
Proximity to high-traffic/high-volume businesses
Growing market or submarket
It is a good neighborhood for current and future business
It is a safe area
Accessibility

The location is along major routes and daily commutes
Good parking ratio
It is road and foot traffic accessible
Traffic flow directions and concentration will provide an advantage
Infrastructure

The building itself is in the right condition, or the price is right for renovations/customizations
All systems are operable
There are adequate employee spaces
There are adequate restroom and other essential facilities
Visibility

Signage available
Street visibility
Traffic visibility
Lease terms and site financials
For lease terms, you will want a professional property manager or broker to assist you in a full review of all of the legal ins and outs of a retail space. There are many ways to set up a retail lease, and you want to be sure that the lease you sign gives you the right freedom and terms.
Contact a Leasing Agent to Get FREE Expert Guidance for Choosing a Retail Location
Establishing a new retail site must be a data-driven decision. Enlisting the help of a trusted professional is a decision that could help you avoid costly mistakes.
Finding retail space that will put your business in the best possible position is key to its survival in a competitive marketplace. The professionals at Hartman REIT can help retailers find the best location. Contact us to find the right retail location in TX today!
*Page updated on February 2023
 About the author:
| | |
| --- | --- |
| | Sarah Hoopes is the Marketing Coordinator at Hartman Income REIT. She is a graduate of Utah Valley University with a Bachelor's degree in Marketing and Business Management. |