Texas Office, Retail and Warehouse Leasing and Management
For more than 35 years, we have delivered commercial space for lease with an unparalleled customer experience and a personal touch in the three largest markets in Texas: Houston, Dallas and San Antonio.
We provide exceptional service, and help businesses thrive by providing a boutique-style customer experience in impeccably-maintained properties, so you can focus directly on growing your business.
Since 1983, we have owned and managed dozens of properties, offering premium office, retail, industrial and flex space at competitive rates, while maintaining a high level of customer service and satisfaction.
Whether you need 1,000 or 10,000 square feet for your business, we have the right space to meet your needs in one of our 60+ Texas locations. Our properties are energy efficient, inviting and staffed by our dedicated property management team that is on-site and ready to assist your needs.
If you are currently leasing in Houston, San Antonio or Dallas, or would like to start your new business, call us today at 800-880-2212.
Houston
616 FM 1960 is an eight-story office building totaling approximately 142,194 square feet. This property is five miles from George Bush Intercontinental Airport and adjacent to Interstate 45 and the Hardy Toll Road. 616 FM 1960 offers an array of amenities including, but not limited to, on-site surveillance, reserved parking, on-site banking, garage parking and on-site maintenance.
616 FM 1960, Houston, TX 77090
Houston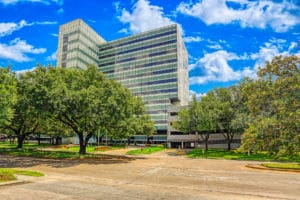 400 North Belt has prominent exposure and identity and features energy-conserving reflective glass that alternates vertically with white and light grey spandrel glass. This building offers easy access to the Hardy Toll Road, Sam Houston Toll Road and I-45. 400 North Belt is located near George Bush Intercontinental Airport as well as numerous restaurants, hotels and banks.
400 N Sam Houston Pkwy, Houston, TX 77060
Dallas
Gateway Tower is one of our premier office buildings located directly on the intersection of LBJ Freeway and North Central Expressway. This prime location gives you great access to Dallas' major freeways, and is only 19 miles from DFW airport and 11 miles from Love Field Airport. Gateway Tower is a fifteen story office building that features on-site management, on-site security personnel and twenty-four hour monitored surveillance.
8111 Lyndon B Johnson, Dallas, TX 75251
"I've been a tenant for almost 5 years and have been very pleased with the management and the location. It is easily accessible to our clients and the building is well maintained. The management routinely does nice things for the tenants and they are always responsive regarding any inquires or issues that we have. I highly recommend!"
Nancy Thompson
Gateway Tower
Dallas, TX